Michelin Trial Light Tyres Available in Southend-on-sea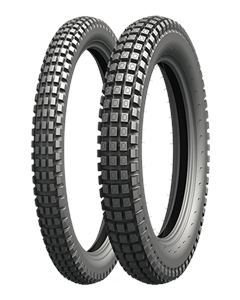 Trial Light
Why choose MICHELIN Trial tyres?
Designed to make lateral movement easier
Thanks to their lightweight design, MICHELIN Trial Light Competition1 tyres make it easier for you to get on your way. Your bike will literally fly over any obstacles. You'll ride more efficiently and your bike will perform better than ever. Available as a radial version: MICHELIN Trial X-Light Competition.
Exclusive "maximized contact patch" technology
Trial Light Competition1 tyres feature a carcass suited to trial racing. They adapt to absorb the impact of any obstacles they encounter. You can weave in and out of any rocks thanks to their unique performance characteristics and their exclusive design.
The tyre of champions
2014 and 2015 Trial Indoor World Champion and 2014 Outdoor World Champion for the 9th consecutive year with Toni Bou.
Michelin always aims to bring together multiple performances.
At MICHELIN, we never work on one isolated element of performance. Instead, we focus on the whole package: safety, durability and the thrill of riding… all at the same time and with no trade-offs. That's what we mean by MICHELIN® Total Performance™, which has and will always be our difference on every tyre.