Michelin StarCross 5 Sand Tyres Available in Southend-on-sea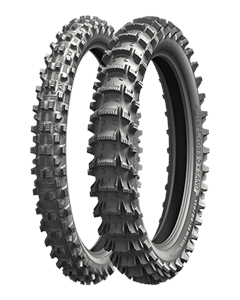 StarCross 5 Sand
Features:
The sand specialist
Working for three years, Michelin brought to bear the knowledge of its engineers and riders to create these tyres. They carried out demanding testing on difficult terrain and finally achieved a result far beyond our expectations. That's how we designed the most well-rounded and technical specialist sand tyres in their class.
High-tech performance
Lighter and with better handling, the new Starcross 5 Sand tyres bring a range of technologies together. Their flexible carcass is one of their key features. Their performance on the straight and through the corners is optimised to provide better traction and more gradual cornering for your bike.
A wide range of sizes
A wider range of sizes for use on a wider range of bikes.
Michelin always aims to bring together multiple performances.
At Michelin, we never work on one isolated element of performance. Instead, we focus on the whole package: safety, durability and the thrill of riding… all at the same time and with no trade-offs. That's what we mean by Michelin Total Performance, which has and will always be our difference on every tyre.