Bridgestone Battlecross X31 Tyres Available in Southend-on-sea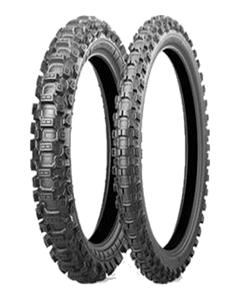 Battlecross X31
The Battlecross X31 is our latest off-road addition. It builds on the success of its predecessor, improving in all the areas essential to build the necessary confidence for your next win, even in difficult conditions.
Technology to increase your performance
Improved traction
Greater stability and grip
Larger operating range on soft-medium terrain
A CLOSER LOOK
NEW PATTERN DESIGN
INCREASING THE WORKING RANGE
A new pattern design with an asymmetric block pattern for the rear tyre leads to improved traction performance and -together with a lower block ratio- an increased working range.
CASTLE BLOCK TECHNOLOGY™
GRIP AND TRACTION
The implementation of the Castle Block Technology™ on the shoulder blocks of the front tyre and all the blocks on the rear tyre results in an extra edge effect. This provides higher cornering grip and traction on different types of terrain.
BUNKER GROOVE
BETTER FEEDBACK
After redesigning the bunker groove we were able to increase the contact touch, enhance bite feel and increase grip and traction. The new bunker groove also lowers tread rigidity for optimal stability.
COOLING FINS
CONSISTENT PERFORMANCE
The addition of cooling fins creates air flow through the sidewall protrusions. Because of this the X31 benefits from an enhanced cooling effect of the tyre surface, less tyre degradation and a consistent performance throughout the life of the tyre.